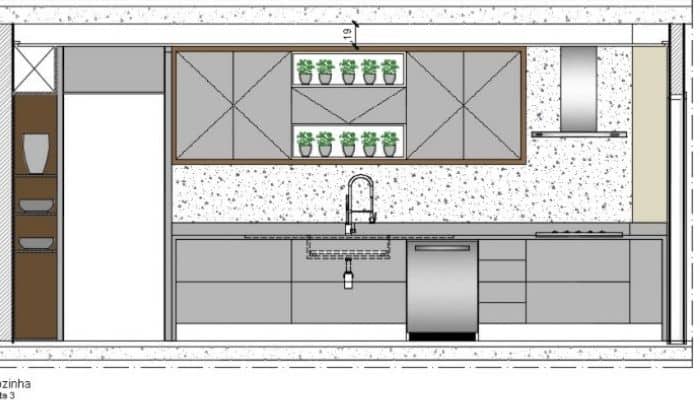 Small planned kitchen – 7 tips on how to design!
When it comes to small planned kitchens, we have to be careful.
Those who have a hobby of cooking also have the habit of offering a little dinner to receive friends and at those times having in mind home A beautiful and functional small kitchen is always a good reason to please and impress guests.
Fitted kitchen:
if you live in apartment If you're thinking about renovating your kitchen, stay tuned to these tips we've prepared for you!
Small planned kitchen for apartment:
Designing a planned kitchen is a job that goes beyond just choosing furniture and appliances, paying attention to functionality and to every detail, especially the design, is a factor that can transform a common space into an environment of great prominence within a apartment.
That's why we created this article with tips on how to create a planned kitchen for you to make your friends want to cook for you!
– Layout and circulation of a small planned kitchen
Unfortunately, we find in most apartments kitchens designed with the minimum space necessary for the simultaneous use of one or two people, which leaves a lot to be desired in terms of circulation, so it is important during a remodeling think of small details that will translate into a few extra inches inside your kitchen.
Designed Kitchen:
– Small apartment kitchen:
See the kitchen model below: It is a rectangular-shaped kitchen also known as a hallway kitchen, measuring 3.88 x 2.21 m.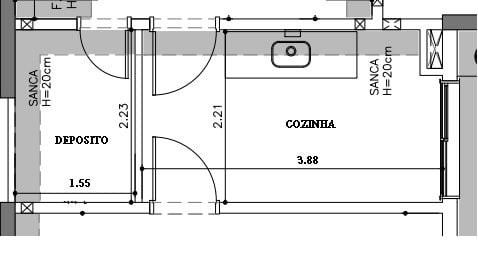 note in project original of the kitchen that, we have a deposit next to it with access to the service area, located behind the kitchen and also note that we have another door that gives access to the dining room forming a passageway, an important factor to be taken into account in the project.
As the client chose to demolish the warehouse wall and expand the kitchen, we had plenty of space to work on the project of cabinets and appliances, what was once a 3.88 x 2.21 m kitchen became 5.19 x 2.21 m with a great circulation space, see how the layout of the new project:
Kitchen Renovation Project:
– Small planned kitchen:
Kitchen Planned Furniture:
The doors were repositioned to meet the primary need to design a large workbench.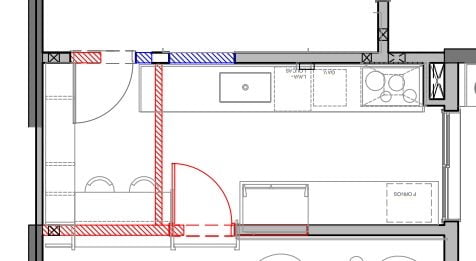 Small planned kitchen – Built-in Cabinet Kitchen:
An important tip here is what was projected on the wall of the fridge and two ovens a panel of decorative closing in the room, which allowed us, in addition to the demolition of the dividing wall, the demolition of part of the masonry where the fridge.
Built-in cupboard Kitchen:
This demolition of part of the masonry where the fridge and the plumb of ovens made the ovens installed in line with the cabinets, avoiding a volume into the kitchen corridor.
You can even say: "but it's only 10 cm..."
However 10 cm within a apartment It makes a big difference! It is worth the intervention of partial demolition.
Small planned kitchen for apartment:
see in project executive of the planned furniture company the demolition site in red:
Small planned kitchen – 7 tips on how to design!
– Small planned kitchen finishes:
Using Textures x Colors:
You know that one-color, tiled kitchen? Forget!
It is very high to use porcelain tiles with textures to highlight the bench.
In some kitchens, depending on the area of cabinets, it is not even possible to use tiles itself, it was the case of this kitchen that we are using as an example, we only used Calacata porcelain from Portobello imitating carrara marble from outside to outside the countertop and white acrylic paint in the small areas that are left, such as the wall of the door that leads to the balcony, see in the image.
A beautiful porcelain tile on the floor added even more elegance to the environment.
The doors were repositioned to meet the primary need to design a large workbench.
Photo of custom furniture:
Gray, yellow and white form a combination of Colors perfect, use them wisely and you will have a sophisticated atmosphere that will impress your visitors.
Cabinet layout of a small planned kitchen:
A planned kitchen starts with the layout of the cabinets, defining the location of the hydraulics, that is, the location of the Cuba who will determine the starting point of the layout from the closet and only then do we move on to the other modules.
Planned Kitchen Cabinet:
– Doors x Drawers
Cabinets full of doors are in disuse nowadays, that's why we chose to design work drawers because they are more functional than traditional opening doors.
With the drawers it is more practical to access crockery and kitchen utensils as in this case the utensils come to you and not you to them.
Small planned kitchen – 7 tips on how to design!
In the case of our model kitchen, a large Cuba in Corian White, which resulted in a shallow drawer in the direction of the siphon, but with a good length for use and storage of cleaning products that are easily accessible when washing dishes, for example.
Designed Cabinet:
In the sequence, a hydraulic point was designed for the dishwasher whose model was previously determined for the perfect fit in the countertop and cabinets.
Note in the drawing above that we have the smaller cutlery drawers and the drawers that work as faggots just below the cooktop!
In the upper part, we have cabinets with opening doors and in the central part we have created a niche highlighted in yellow to give a little color and liveliness to the kitchen. (check it out in 3D image above).
Planned Kitchen with Countertop:
For the bench to close perfectly to the end of the wall, we coat the shaft with the same material as the cabinet to give continuity to the countertop and make it even more fluid.
– Countertop of a small planned kitchen
Before choosing the material to be used in your kitchen, you need to know them better to make the right choice.
The most common to be found on the market are MARBLES AND GRANITES.
– Marble
the marble is more porous and has a softest stone than granite, therefore less resistant to impacts and stains.
– granite
IT'S less porous is very more resistent  that marble is therefore more suitable for kitchen sinks and for owning less veins it is usually much less graphically worked on by nature.
Given these characteristics, it is good to remember that marble can wear out over time, so in many cases where use is intense it is better think about the granite for kitchens that will have much greater resistance.
When choosing marble/granite, always try to balance the elements of its natural color with the others. Colors of the environment so as not to make a mistake!
But another option that is on the rise in kitchens is the Corian, a synthetic material produced by the company Dupont that enables the creation of shapes organic light and practically perfect, without any seams, even with the possibility of using Colors strong, offering a wonderful aesthetic.
An innovation for use on solid surfaces that when used in sinks inspire unprecedented creative design flights providing elegance combined with functionality.
If you've chosen Corian, know that the newest fashion in the kitchen is sink accessories, and Corian offers this possibility in style.
The sink all carved in Corian with drainer plates, cutlery and cups all accompanied by a beautiful top on the countertop are a must!
I particularly prefer one Cuba carved from the same corian material as a Cuba in stainless steel for that case, don't you think?
Pictures of Planned Kitchens:
- Sink Bench:
Check out other examples of sink accessories in Corian:
Corian is produced at very high temperatures and that is why it resists contact with pots or molds straight from the oven hot however there is an accessory to support pots super beautiful installed on the countertop itself to avoid direct contact that may stain your countertop.
Small planned kitchen – 7 tips on how to design!
Kitchen Project – Design of a small planned kitchen
When choosing the faucet, Capriche in Design!
She will give a special touch to your kitchen, even more with a countertop all crafted in Corian, all the attention goes to her.
don't know anything about gourmet faucets?
Check out the article I wrote here on the blog. about choosing your gourmet faucet .
There are several national models of the most varied prices on the market, however there is still a type of  faucet known as faucet luxury gourmet, imported and real gems.
See this model faucet WONDERFUL Luxury Gourmet from Rubinettos, design that translates your style.
Small planned kitchen – 7 tips on how to design! It reminds a little of the krauss model, which is also not far behind in terms of design.
Both are beautiful, but there are several others with prices and finishes that fit in the most different types of pockets, it is worth doing some research in the market before buying a basic faucet.
– Lighting:
A good planned kitchen is a well lit kitchen! How to highlight so many beautiful things in low lighting?
In addition to general kitchen lighting, a good custom lighting tip is lighting in some spots strategic with lamps in LED to add lightness to the cabinets.
Planned apartment kitchen:
See this example below, with little investment you can provide this type of lighting that will make your kitchen look better at night.
Small kitchen appliances:
Anyone who likes a planned kitchen is equally crazy about appliances!
Today many brands are putting more and more into the design of stoves and refrigerators and we appreciate it, right, because that's how our humble kitchens start to gain that air of a wealthy people's kitchen, isn't it?
More than ever the stainless steel is more than on the rise, the opposite of line white that is falling out of fashion, the stainless steel, the dream of consumption of gourmet cooks, gives the environment Higt-Tech characteristics that make it even more imposing.
I suggest you choose one line of appliances of a specific brand and be faithful to it.
Modern and sophisticated planned kitchens!
With this you give a visual unit of the brand to your kitchen. Adopting a specific brand shows that you know what you want and don't wander from brand to brand around…
Brands always have complete lines like this one from Brastemp: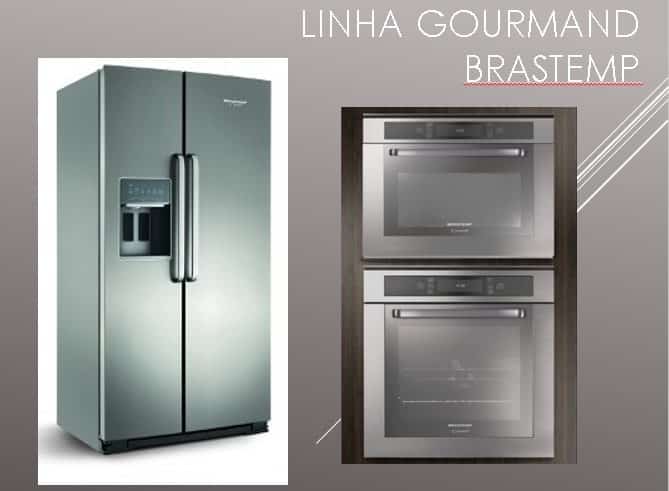 fridge and ovens line Gourmand Brastemp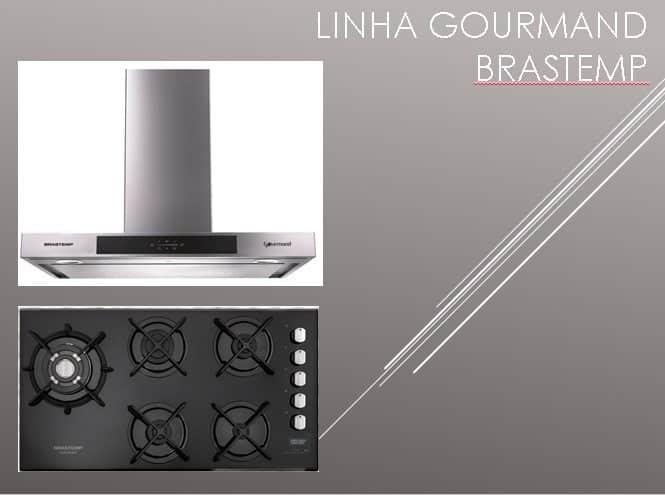 When designing the kitchen, try to align the ovens in what we call plumb ovens.
As they are built-in, they give the kitchen a very elegant appearance.
And don't forget, preferably don't place them next to the fridge, because one heats up and the other cools down.
You don't even need to say anything else, do you? The planet thanks you because it saves energy.
– Built-in kitchen cabinet:
And speaking of the planet, here's a final tip that you'll love.
You know the kitchen trash that we never know where to put it?
Even more if you are like me who cares about separating the trash, there are many trash cans for you to manage the look, isn't it true!?
Your problems are over, you can ask the planning company for a kitchen accessory to form discreet inside the closet form very practical and hygienic, see:
In this case, there are three bins, one for each type of garbage indicated by color: green, yellow and gray, all articulated that pop out when you open the door, do you like the idea?
With a planned kitchen like this you can invite me to dinner huh! Just kidding….
Final planned kitchen image: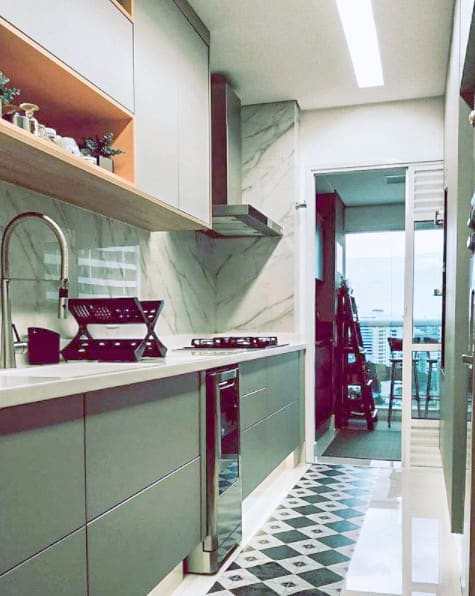 Planned small houses:
Check out 7 Useful Tips for decoration in houses small with the design of the blue print!
If you want to check out tips on how to to decorate an home small, check out in this article the tips we separate for you!
Photos of kitchens designed for inspiration!
Now check out other models of planned kitchen for you to be inspired by the realization of the project from your kitchen:
Contemporary kitchen example: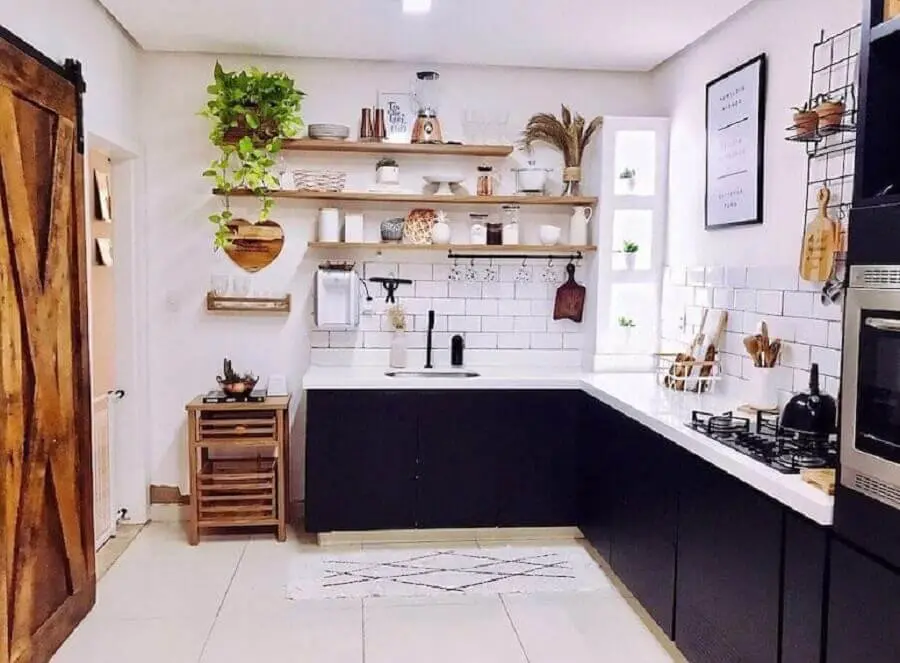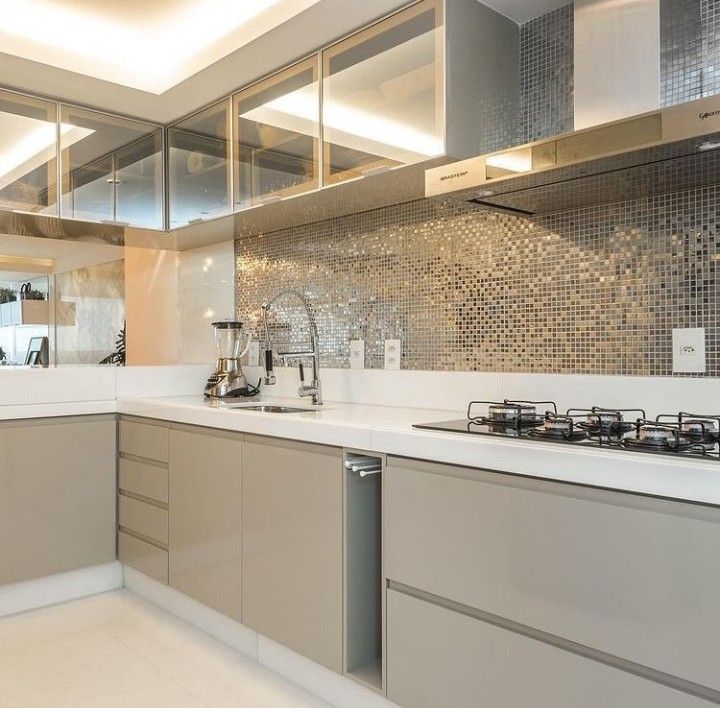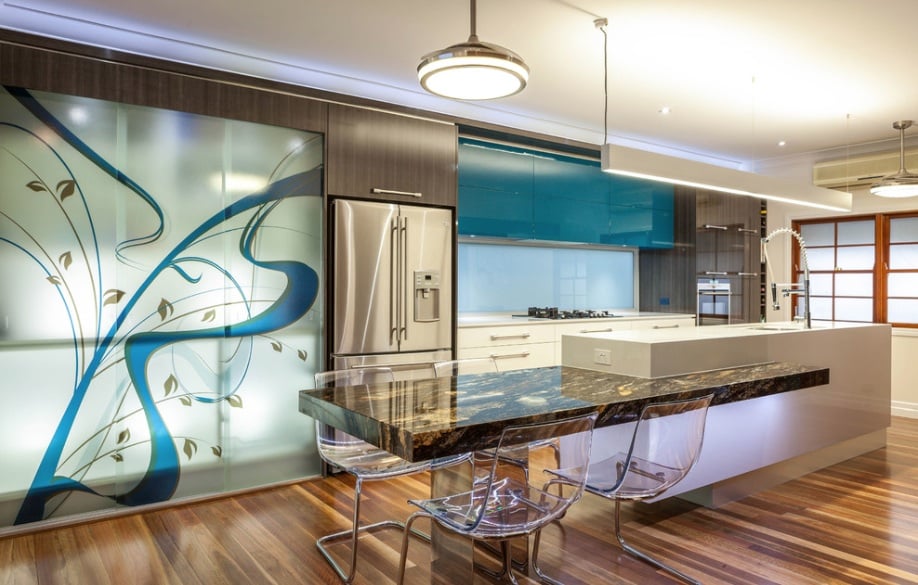 Planned kitchen idea: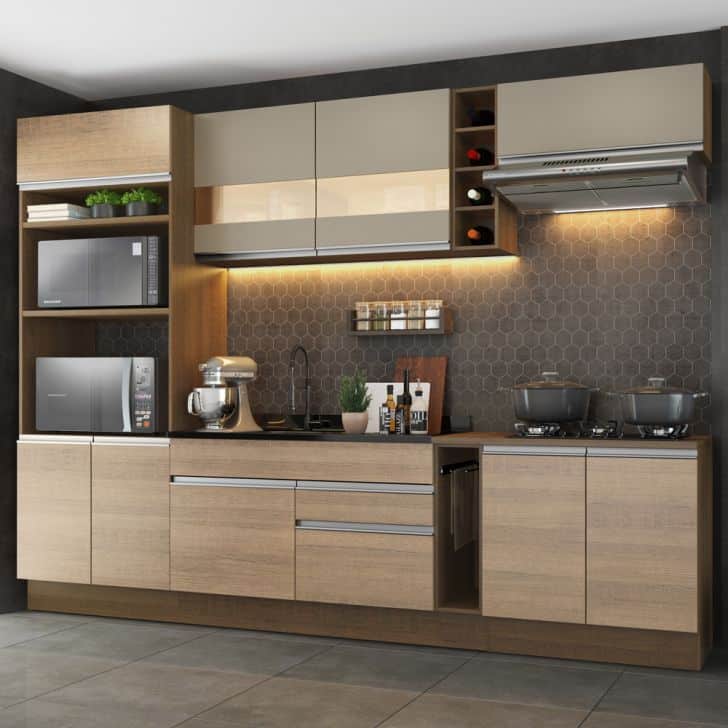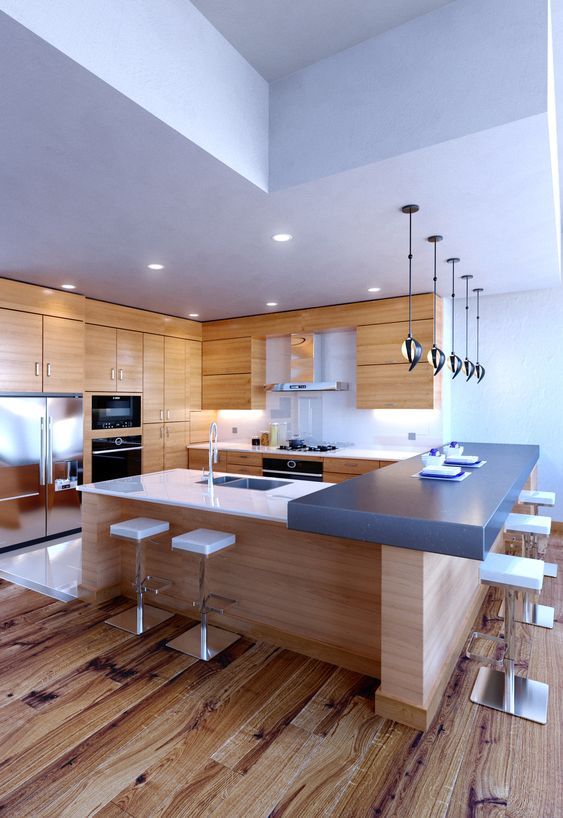 Rustic kitchen example: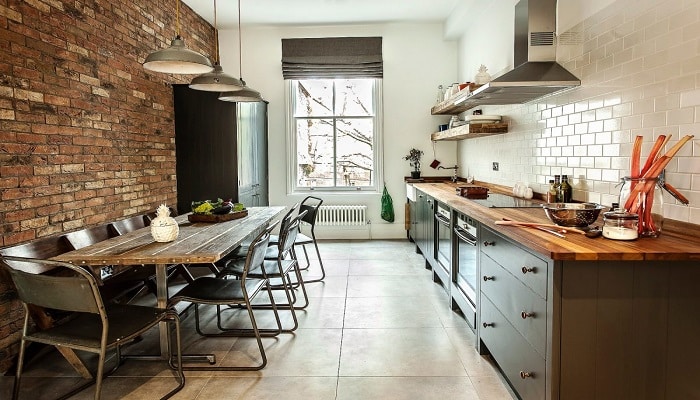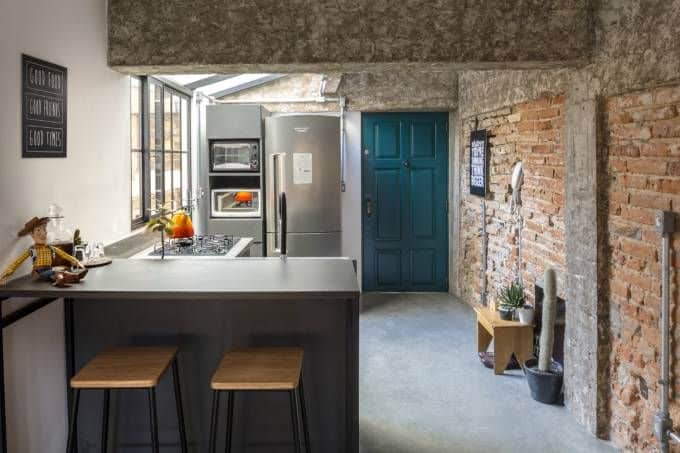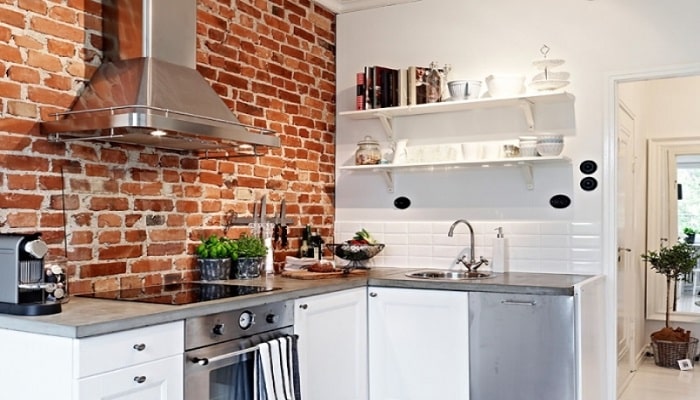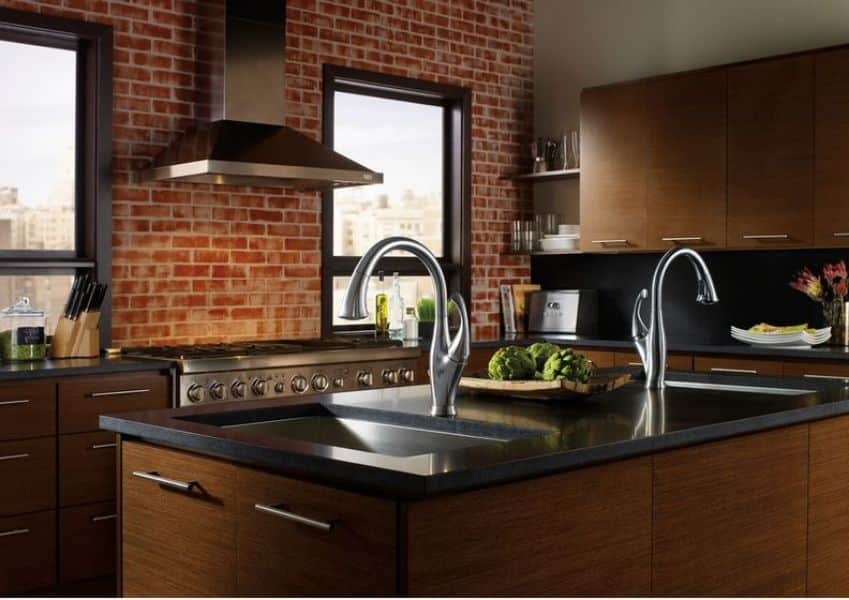 Modern kitchen example: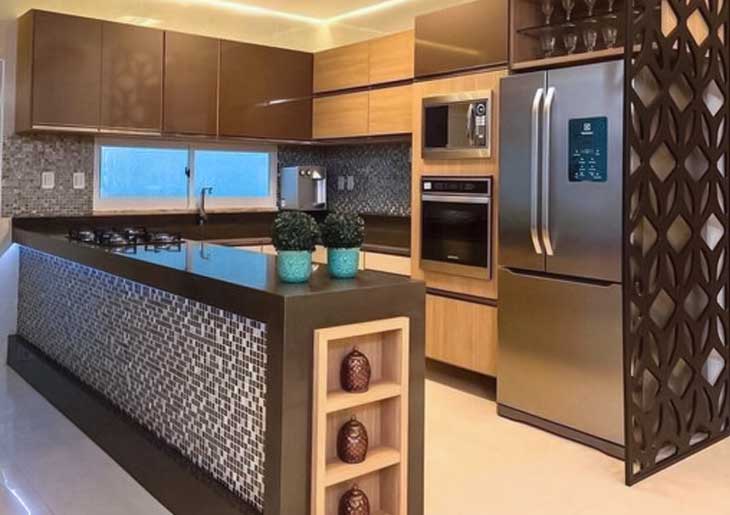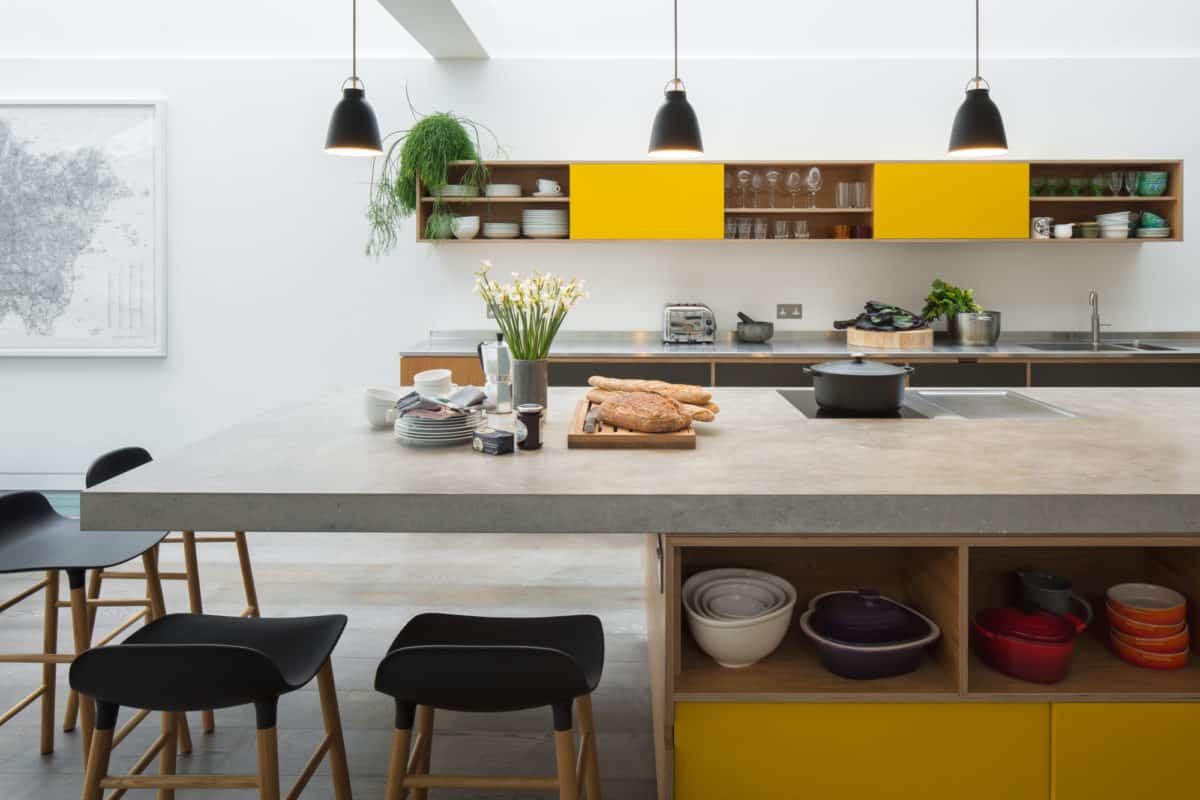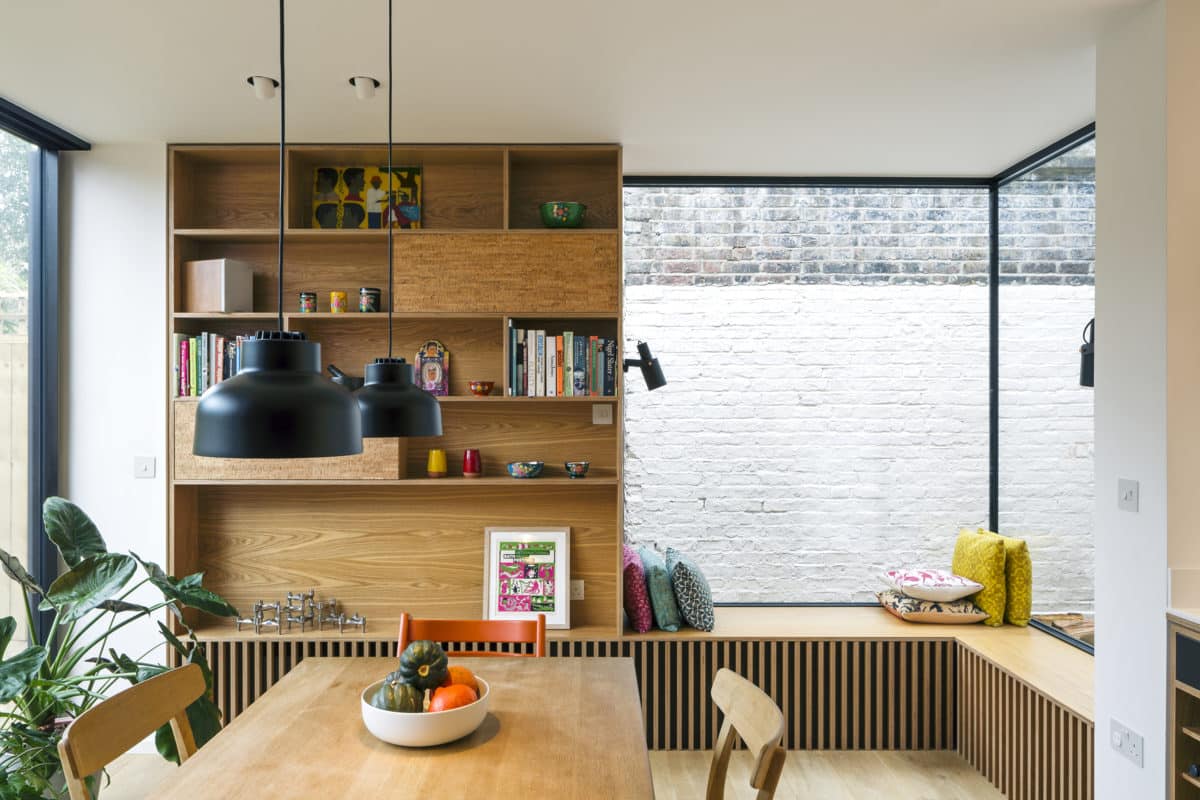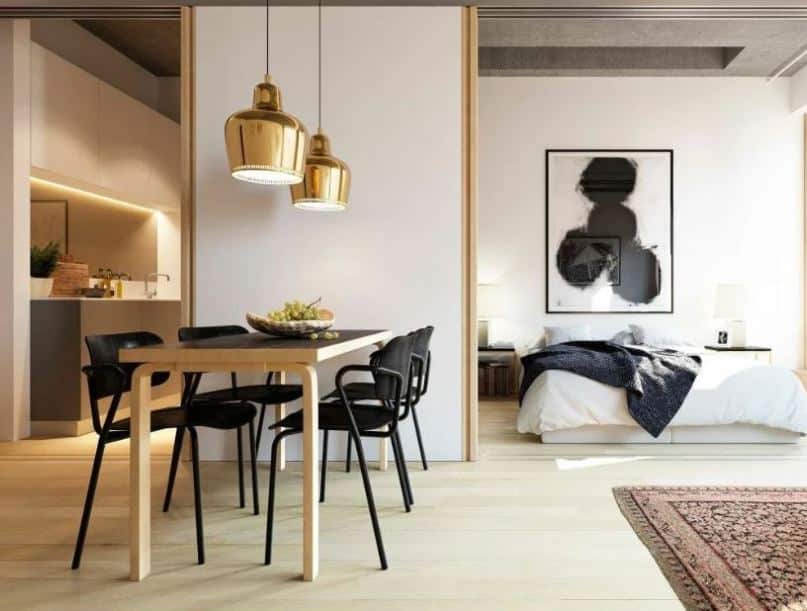 Kitchen furniture: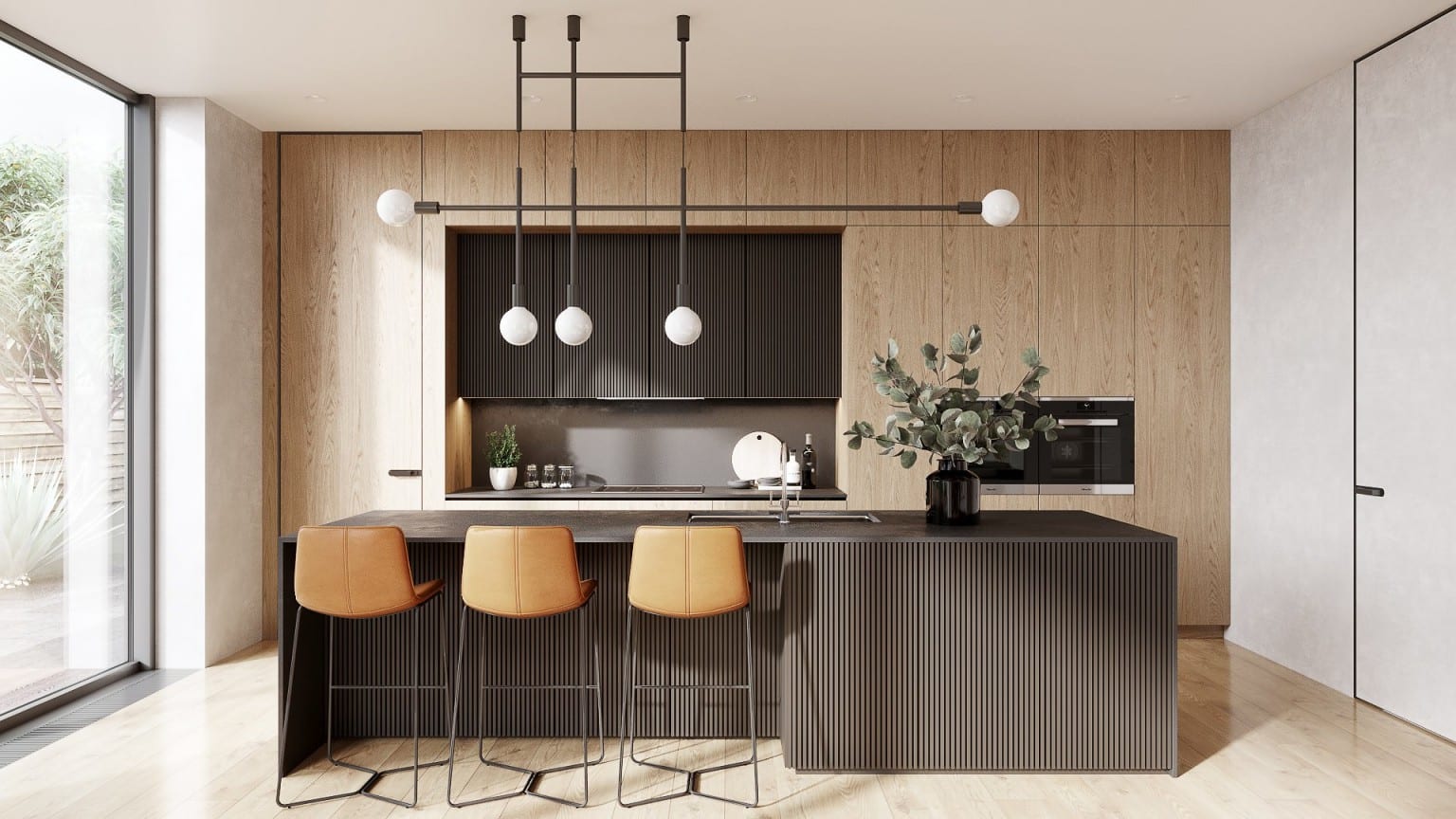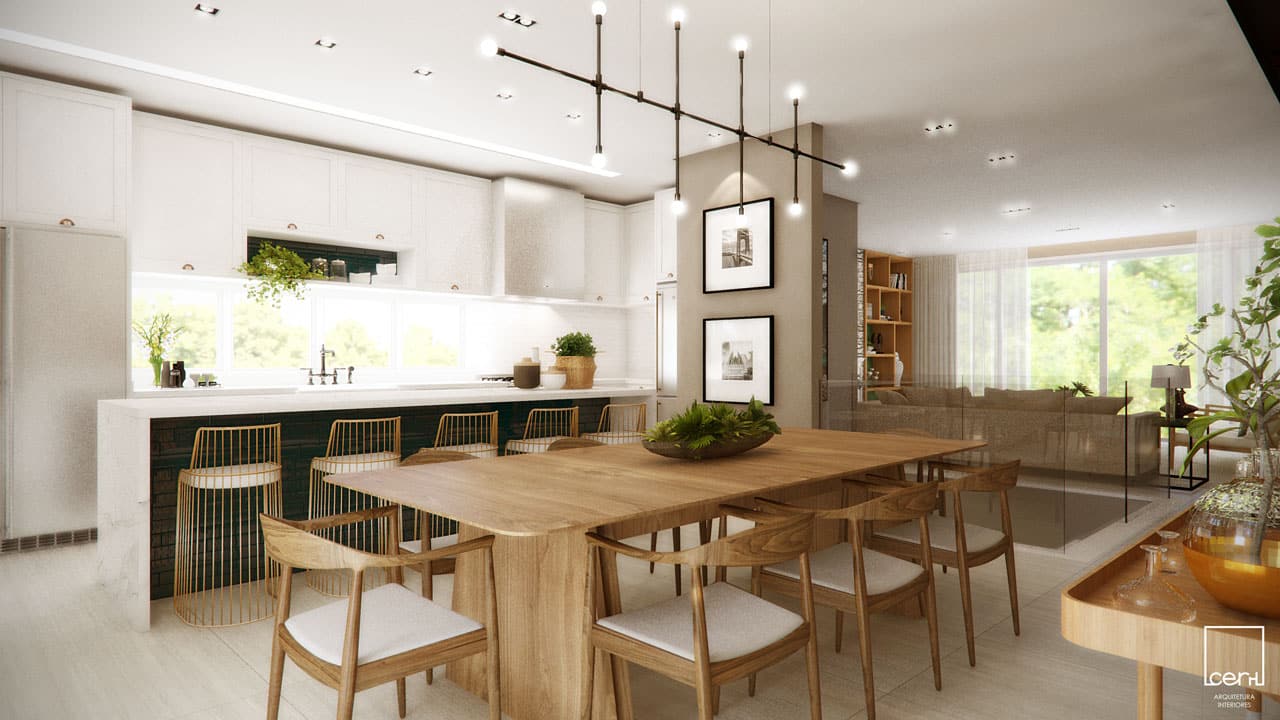 Modern kitchen cabinet: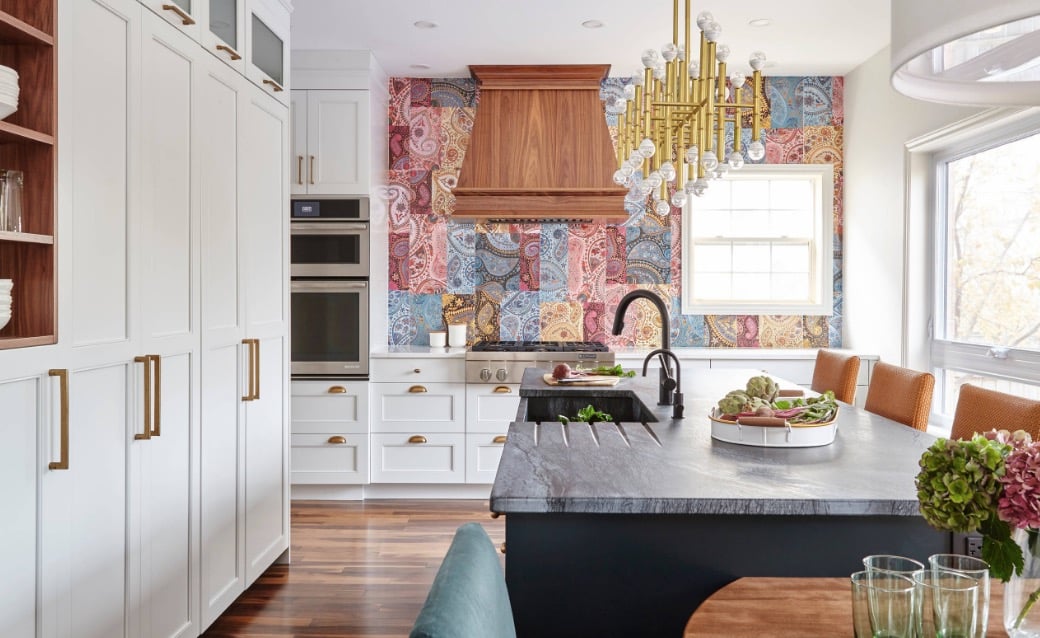 Custom kitchens with island: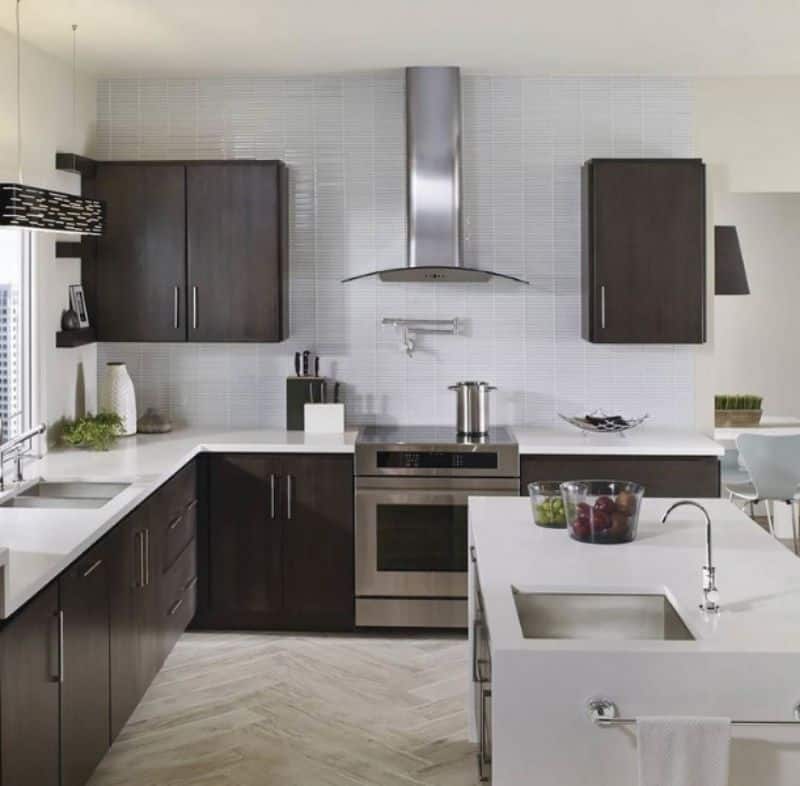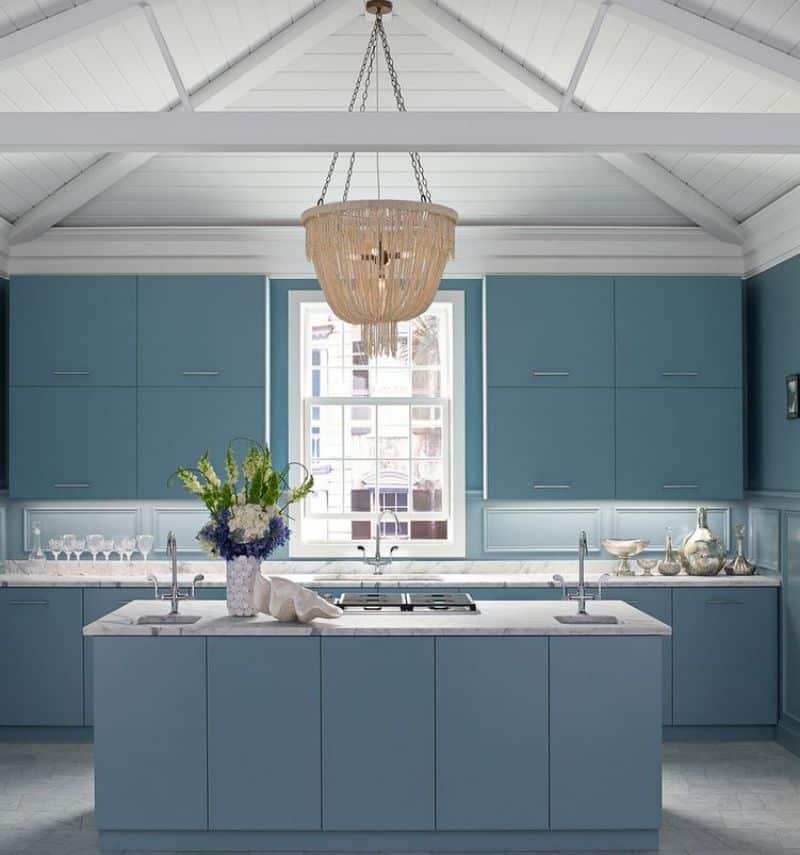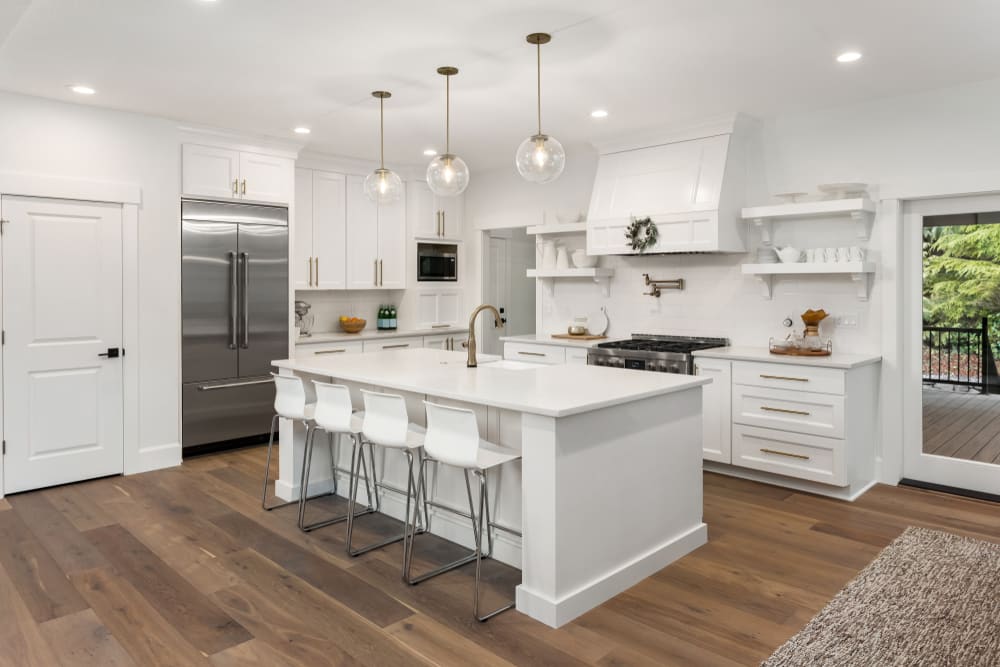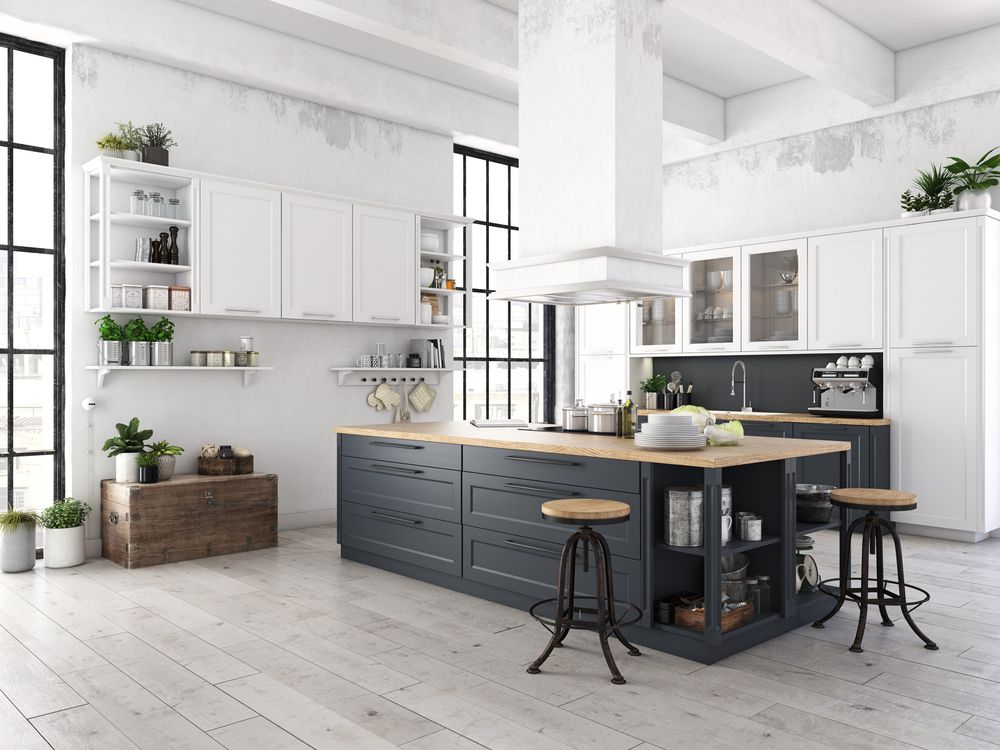 Kitchen models: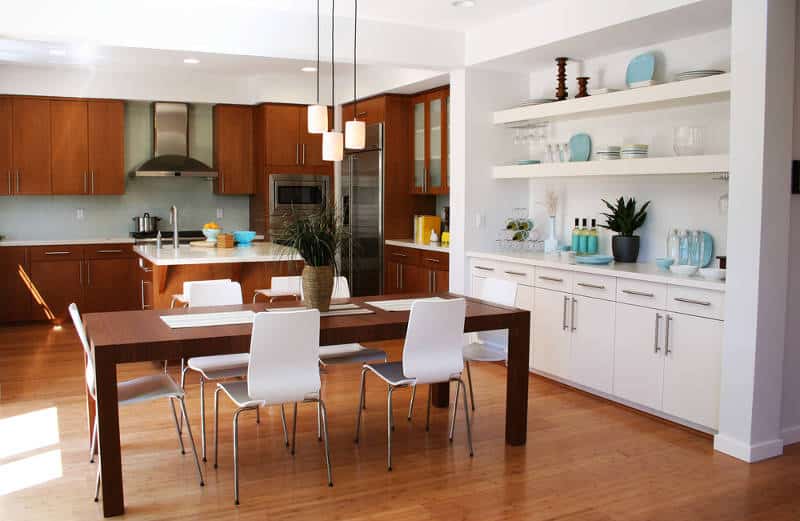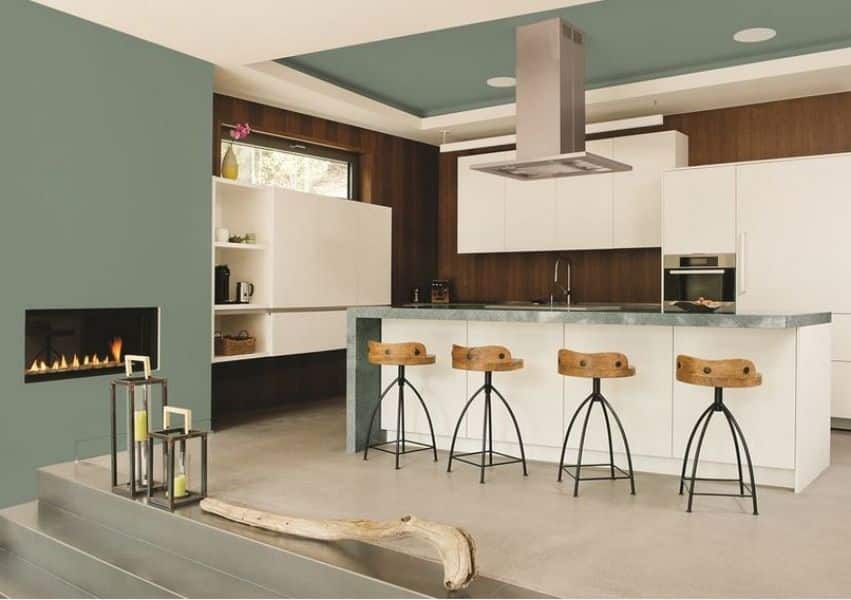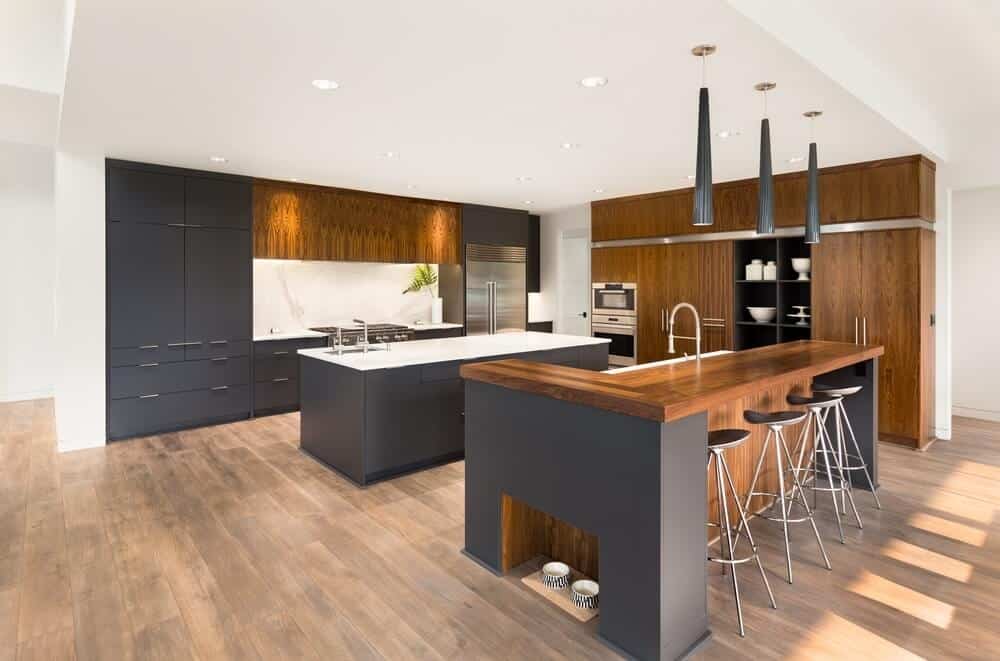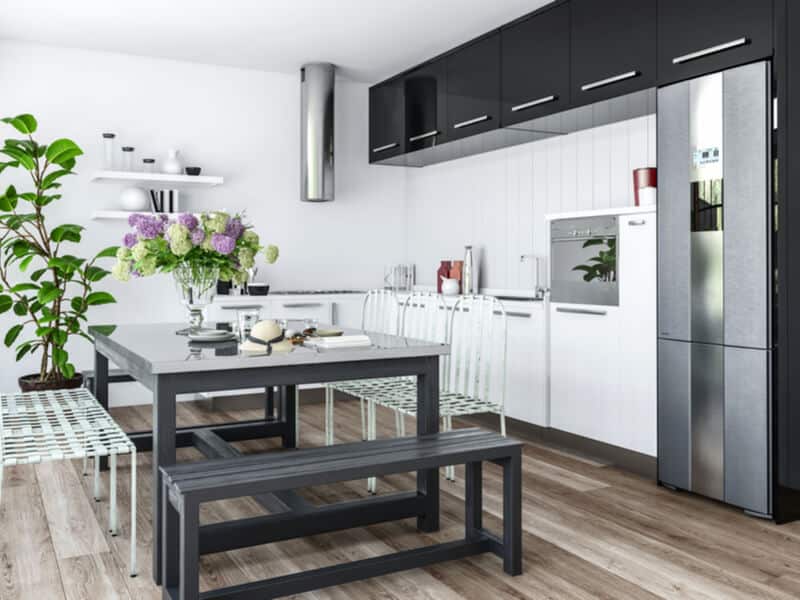 Custom kitchen cabinets: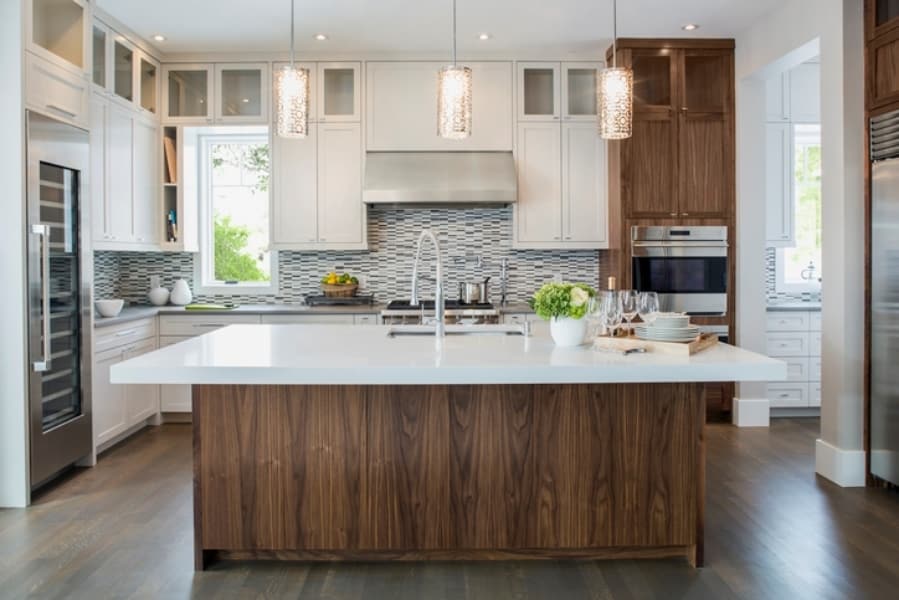 Classic kitchen example:
Planned kitchen with countertop: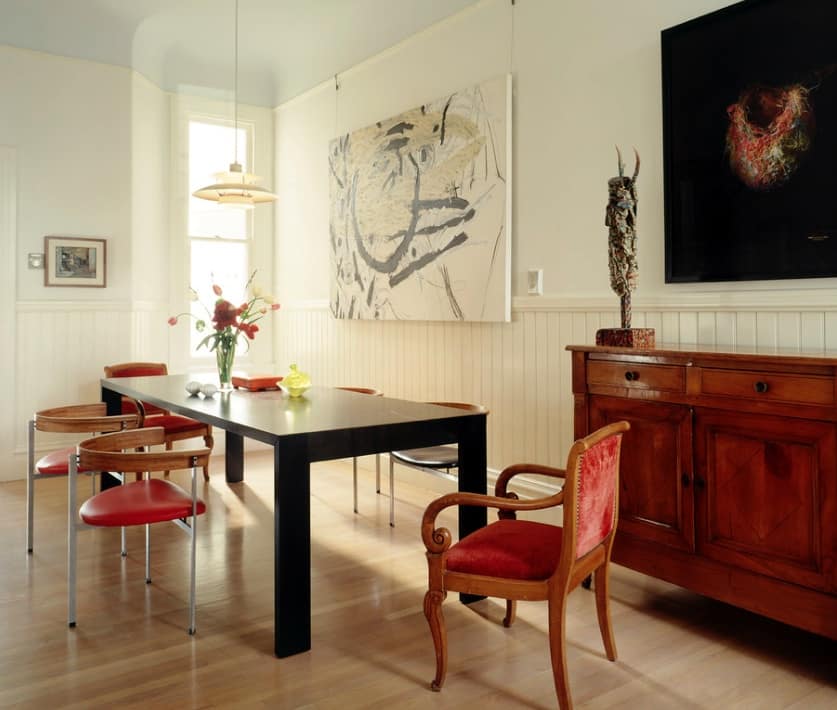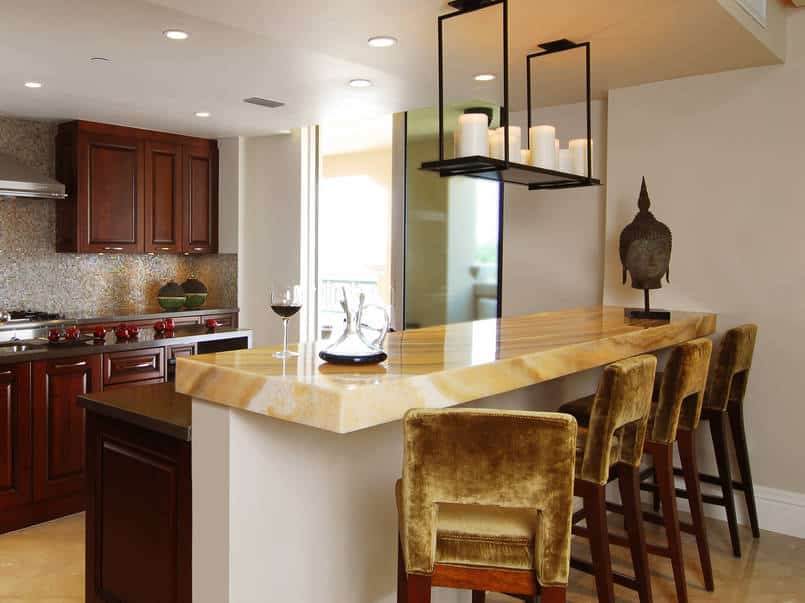 See more kitchen designs below:
If you liked these tips and love a puzzle, check out the article that I prepared about the 13 stages of a remodeling on one apartment!
I'm sure they can help you a lot if you're thinking of making a remodeling large-sized.
Now if you want to learn more about how to design spaces in interior design, you can't help but watch this video:
So, did you like the article about Small Planned Kitchen?
Then share with friends!
Finally, don't forget to let me know in the comments what you thought of the article.
Until the next tip!
►See more tips at:
Want more tips then check out some of our articles on: