The Stages of a Project is one of the subjects not taught in depth in class at the Faculty of Architecture.
However, as much as you believe that this classroom time is more than enough for teachers to transmit to the student all the knowledge necessary to form him/her a full professional and fully able to develop a successful career, know that the thing not quite like that.
There are other, no less important subjects that unfortunately you don't learn in the classroom and that you will miss in your professional life.
As I always say, unfortunately it is not possible for us to learn everything during college Architecture.
Not because professors or faculties do not want to teach, but because there is not enough time to be talked about or taught everything that is necessary for a student to learn to conquer his space in the job market of Architecture.
Many of the professional practices that we so much need to have knowledge of are unfortunately learned in professional practical life. the discipline of Architecture it is a very complex and extensive career where the teacher has a lot to talk about and teach, however, in a very short time.
It is practically delegated to the internships the task or mission of informing about the practical procedures of the professional's day-to-day.
And at that point there's no way around it… just experiencing it in practice to learn!
In college we learned that a architectural design born from the architect x client relationship.
A plan of ideas and a program of needs are drawn up based on aesthetic and spatial functions, resulting in what we call architectural design, and what constitutes a complete project of Architecture?
Stages of an architectural project
O architectural design consists of the division of work steps according to their phase:
preliminary study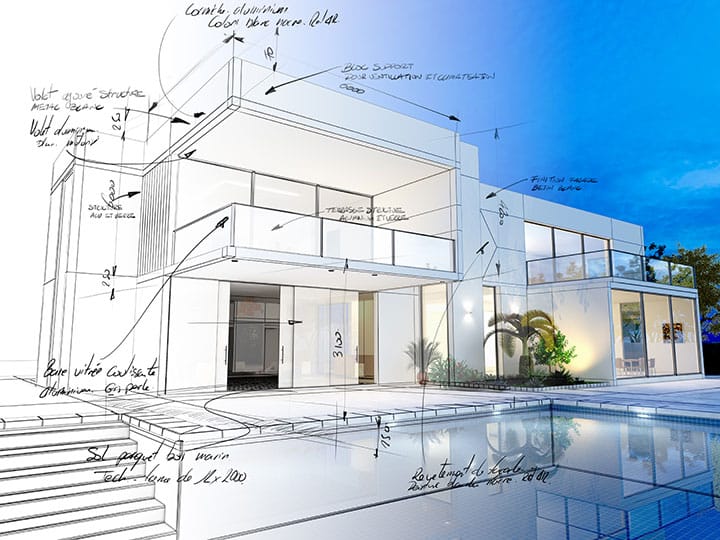 It is the first step where the concept, the program of needs and the constructive solutions adopted are displayed.
The preliminary study is an information gathering phase that will form the basis for the design phases that will follow.
The main objective during this phase is to learn everything possible about the clients personality, lifestyle and needs, as well as determine how much space you need now and are likely to need in the future, and how that space should be used, organized and arranged.
This information is organized into a document, which describes all of the rooms and spaces in the project, their approximate sizes, and any specific qualities or unique characteristics you are looking for.
The other part of the preliminary study phase is to observe and document existing conditions at the project site.
This usually involves a survey of the ground to determine property line locations and/or measurements of any existing structures.
We also conduct background research to better understand how the site relates to the surrounding area, climate, people and regulations that affect the project.
We track these regulations in a Zoning Summary document and speak with the city planning team if questions arise.
Os clientes devem esperar estar muito envolvidos e prontos para responder a perguntas pessoais durante esta fase.
Sometimes we give "homework" assignments. home" to get to know you better.
collaborate with this form allows us to better understand your values and needs, resulting in a design that reflects your individuality with optimal functionality.
draft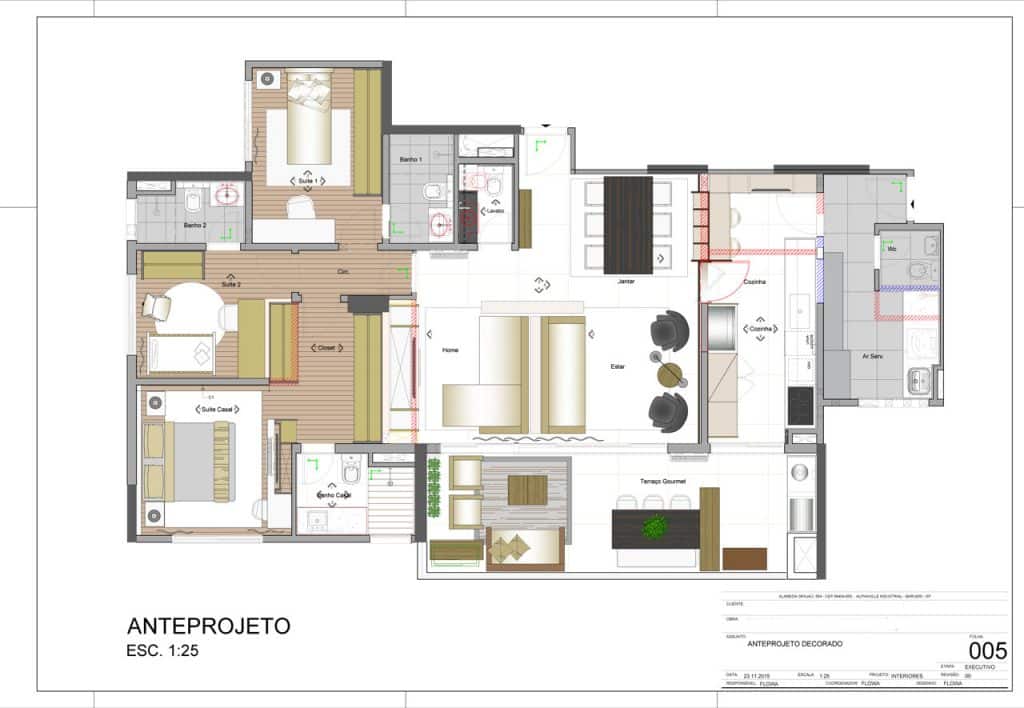 It is the subsequent stage of the Preliminary Study. At this stage, the technical and aesthetic solutions adopted by the architect are presented with greater definition, including plans, sections and elevations, and may even present volumes or models.
I don't need to say more about these two initial stages of a project, do I?
In college you learn everything about it, because it is at this stage that the student works most of the time in project classes.
In this phase, we begin the process of translating the Program into a construction efficient. That's when we start exploring design concepts and it's time to test the options and get a general idea of what it's going to look like.
Floor plans and project format will begin to take form, but details on materials and details will come later.
The schematic design phase includes several meetings where we present ideas to our clients using images from other projects, hand sketches and models to help visualize the size, form and the relationship of spaces to each other.
We listen and observe your reactions and then refine the ideas according to your input until we arrive at an agreed design direction to develop further in the following phases.
Clients can expect to be highly engaged throughout this phase and to be asked to approve the Blueprint before work proceeds. Be sure to let your design professional know if you don't understand anything, take the time to provide a thoughtful opinion.
You can always make changes later, but it's easier during this phase, when the design is more fluid.
Legal Project or Approval Project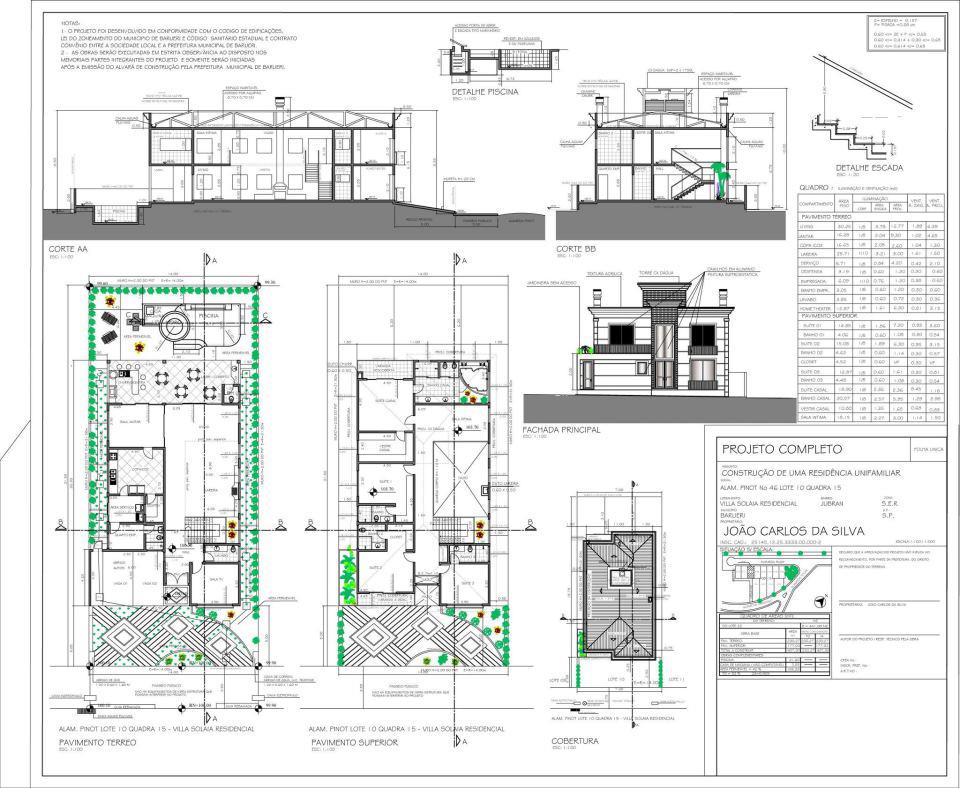 Also known as Project for City Hall, as the name implies, it is a project to be presented to the PM (municipal city hall), in order to register in form from document to construction or regularization of a building.
This stage is no less important than the others and, depending on the focus you are going to give your career, it will be necessary to understand what these projects are for.
It is very important for the student to understand the role of cool design. However, when the subject is discussed in the classrooms, it happens form muito superficial. Alguns architects não trabalham com aprovação, outros só trabalham com isso.
During this phase, we added to the construction any additional information necessary to obtain a license to construction.
This is the information needed to show that the project complies with land use codes, construction and applicable energy and any other applicable guidelines and regulations required by the city or jurisdiction that issued the license.
We send these drawings along with the various forms required for the permit application to the local plan reviewer, monitor progress during the review period, and provide additional information or clarification as requested. Little or nothing is needed from the client during this phase—except patience.
Our goal is to get your project done as quickly as possible, but the duration and cost of this phase can vary greatly depending on the jurisdiction and complexity of the project.
Executive project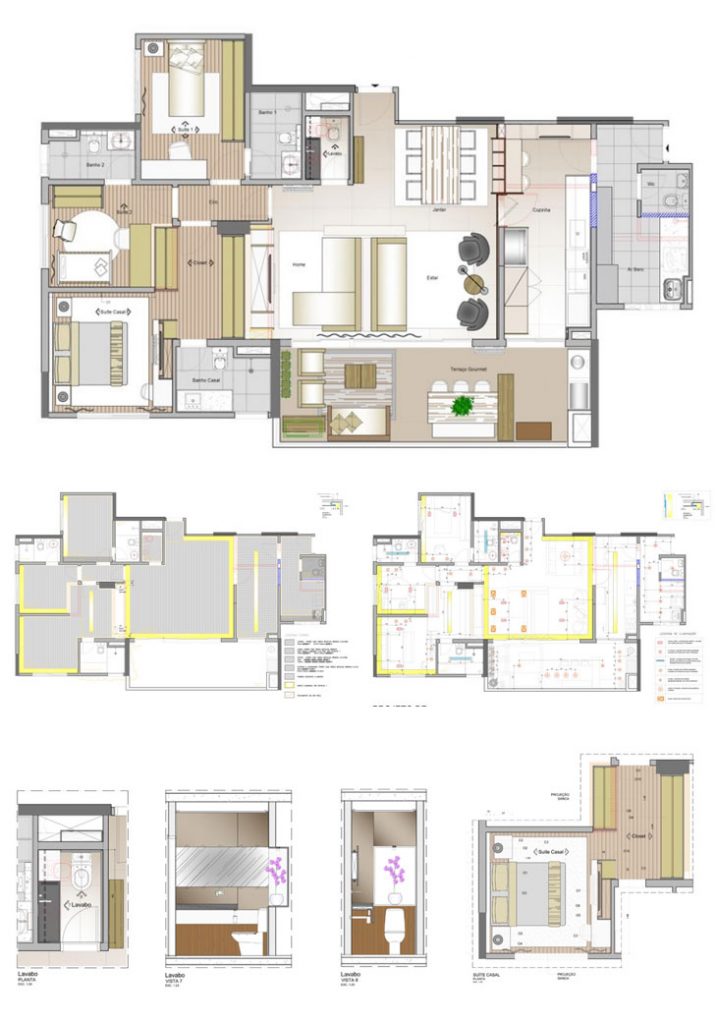 Where all the items and disciplines of the project are detailed with the purpose of being used in the constructions. It is in it that the architect specifies dimensions, finishes, materials used, construction systems, typologies, hydraulic points and general structures.
It's the project that goes to constructions, where the builder keeps track of all the specifications that the project author wrote down. It differs in scale and level of detail when compared to the other drawings from the previous phases.
In this phase, we develop the Design Drawings into a complete and accurate set of construction.
These drawings and specifications have all the details, dimensions and notes needed to communicate the full design intent to the builder.
We show how the building components are to be connected, specify all materials, finishes, fixtures, equipment and appliances to be installed, and coordinate with the structural engineer's drawings and any other consultant drawings.
The document phase construction usually requires more time, which can surprise customers because the project seems complete after the project is developed. However, this is a critical step in the process of accurately and successfully executing the project you have invested in.
At the beginning of this phase, there may still be options on the table for some of the items to be specified.
Customers must be prepared to make decisions during this phase. It is our job to make recommendations and educate you about the options, but ultimately you will be responsible for occupancy and maintenance of the home or building and will have the final word.
Stages of a project at the Faculty of Architecture
Regardless of form how projects are developed in the student phase, whether by hand on parchment paper or on the computer in AutoCAD.
It is unlikely that the student will actually be able to learn to master a program of
Architecture
in a few weekly class-hours, which forces her to learn by other means.
In college, the professor is concerned with teaching the student the design/concentual techniques and "forget" to go into more depth in the professional practices that are so important and that the student will need to have knowledge of when graduating.
There are subjects that are rarely or not addressed in the classroom, such as cool design and executives in general, for example, and also the no less important issues such as techniques and strategies of how to open your own office if you want are raised in the classroom.
It is important that those who are studying at the University of Architecture seek knowledge about all phases of the project and especially have mastery over all these stages of a project, as they are very essential for professional life.
In college, many times, we don't even get to the Preliminary Project stage and for professional life in an office of Architecture the professional needs to reach out to finally in order to offer and deliver the client a job.
Opening an office and serving a client with the knowledge learned only in the classroom can cause serious setbacks during the work process, starting with the cool design.
Atualmente os architects e Engenheiros aprendem a elaborar projetos legais na "raça", como se dizem popularmente por aí, e o mesmo acontece com os projetos executivos.
These projects are subjects that, as I have said several times, are not learned in the classroom.
So how do you learn to develop this type of project?
In practical life, working with other more experienced professionals, in internships, in construction companies, etc.
What is important when leaving the classroom, before the student starts thinking about opening his own office, is that he is aware of this fact.
Even if the student does not want to open his own business and intends to work for other colleagues, it will be in the offices of Architecture that he will need to show mastery over the stages of a project, because at the time of hiring, show that knowing how to prepare these drawings can make a difference in the interview with an employer, for example.
Seek knowledge beyond the classroom and prepare for the market.
What you learned in college is just the beginning of the journey, the path is much longer than it seems.
Watch one of my classes on executive design where I address this topic:
See too:
Are you going to major in Architecture? Check out more tips:
To see more sample material access here:
So, did you like these inspirations we brought you? Then share it with your friends!
Treats from The Architect for you!
In my online training portal I have separated for you several of my free courses for those who want to learn to to decorate or even use programs to create your projects, whether interiors, buildings, e-books and much more.
Just click on this link and start studying.
Also, I would like to know more about you.
Are you an enthusiastic decorator, or even a professional Architecture? Click here, answer these few questions and get a gift from me that you will love!
Hope the post helped you!
Oh! Don't forget to get your free content.
Up until!